A little bit of fall nip is in the air as things open up in New York City and more folks start to gather after being separated for quite some time. Over the past year and a half, new ways to connect with one another in online and virtual spaces have helped us stay connected to friends, loved ones, and our community during our time apart. As Howl celebrates the opening of Howl! Arts/Howl! Archive at 250 Bowery and resumes in-person programming and exhibitions at our 6 East First Street location, we look back to the online community spaces generated through our education initiatives in the spring of 2021. 
---
Howl High Teen Arts Program (Online)
"This was a chill and relaxed environment that helped me learn. Also, this helped me into thinking of doing more art-related (either known or unknown) things in college, which I am excited for." —Howl High student
Howl High master teaching artist Scooter LaForge and our additional roster of spring cohort teaching artists facilitated growth and creativity among seven students across the city who met on Saturday mornings to learn about and make art through our Howl High program. Our virtual presentations included sessions with artists Bubi Canal, Scooter LaForge, Catt Caulley, Mr. Moda, Brett De Palma, Lady K-Fever, Stacie Joy, Ethan Minsker, Helixx C. Armageddon, and Barbie Beach. Each session focused on different themes within the artistic movements of the East Village and Lower East Side, such as street art and graffiti, street wear, documentary photography, performance art, poetry, and Surrealism. We also held virtual studio sessions on Tuesday afternoons with students in the program, where they made art projects facilitated by Howl High teaching artists.
Howl High students also produced a final capstone project of their own choosing as a culmination of their work in the program. See a slide show and images of student work below. 
"Yes, I learned different types of art and now know where to get inspiration from."  —Howl High student 
Rolanda M Final Project: Self Portrait Video
We will continue the virtual studio workshops into the fall and spring, to reach teens in online spaces. We learned that while in-person experiences are important to learning, online experiences provide a level of interactivity and connectedness that also supports youth development. Young people have had an especially challenging time with Covid, and it was important for us to create a space each week where students could be creative, share their thoughts and feelings, and receive support from artists and one another. 
Howl High will resume its 10-week in-person program with a new cohort of teens in the spring of 2022. Applications will be available in early November 2021. 
---
Master Class Arts Series: Antony Zito Collage Workshop 
"Antony Zito is such a proficient artist with his craft. To be able to watch how he starts as he creates, and listen to his thought process as he is selecting and refining and building, has been such a great pleasure. Thank you Howl for that very rare opportunity. Seeing everyone's personal work was also extremely valuable, watching all of us taking unsure steps—with Zito's suggestions and encouragement—and coming out in the end with a cohesive, and exciting—because we are all such different artists—finale. Bravo and thank you! —Workshop participant 
Online maker spaces were not just for teens! Grown-ups got in on the action too with our #HowlAtHome activities and collage-painting Master Class workshop. Ten people logged onto Zoom in March over three consecutive Wednesdays to produce a collage-painting expertly facilitated by acclaimed artist Antony Zito. A diverse group of people with various backgrounds and experiences with art produced inspirational works, often featuring important themes and people in their lives. Check out a gallery of the finished pieces below.
One participant from the class recently shared they were working on a brand new collage-painting inspired by having taken the class. 
The popular Vega Arts Workshop Series will be back with the Andrew Castrucci/Bullet Space exhibition, which opens Saturday, October 23, 2021. A date for the workshop will be announced soon! Seating will be limited and prior registration is required. The workshop will be in-person and all participants must be vaccinated in order to attend. 
---
Announcing November #HowlatHome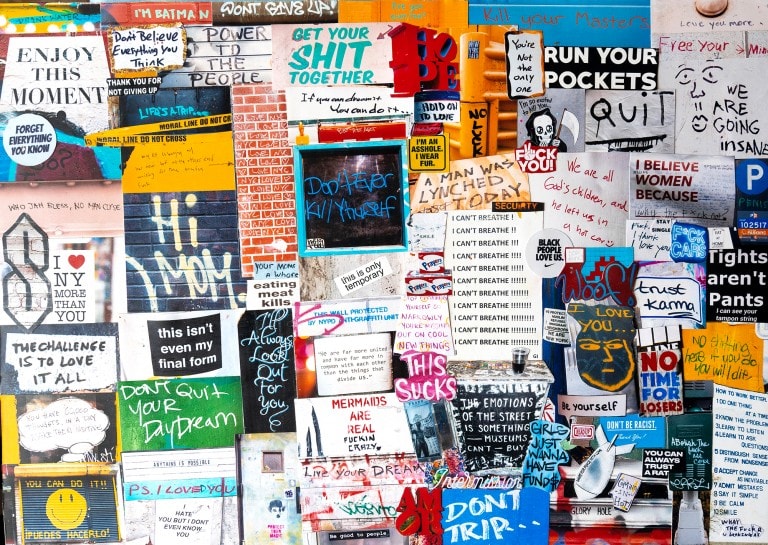 Amon Focus will be the featured artist for the November #HowlAtHome activity. Focus' unique take on photography and collage provides us with a new opportunity to engage the power of words in vibrant and interesting ways.  
---