A 7,000-Square-Foot Headquarters on the Lower East Side, New York City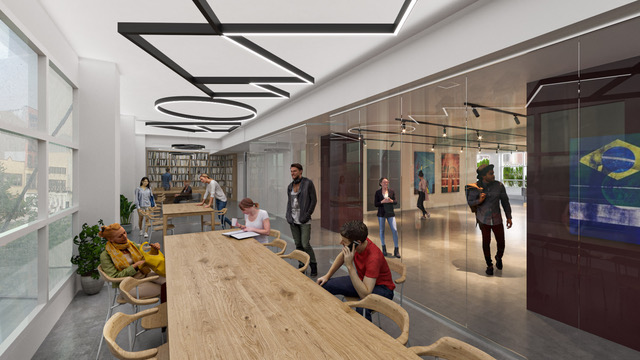 Howl Arts is pleased to announce its expansion to a second space, Howl! Arts/Howl! Archive (HA/HA) at 250 Bowery. Designed by architectural firm Space ODT, the elegant new Howl Arts exhibition space and archive is a 7,000-square-foot facility that expands upon Howl! Happening's innovative exhibitions and public programs and focuses on the thriving multi-dimensional artistry and history of the East Village/Lower East Side. HA/HA will serve as Howl Arts' new headquarters, while continuing the robust programming at Howl! Happening (6 East First Street) which opened in 2015. By the community, for the community, HA/HA will be activated with three exhibition galleries, as well as a library, screening and reading rooms, a chef's kitchen, and an outdoor terrace for special events.
Energized by the creative and disruptive spirit of the 60s, 70s, and 80s on the Lower East Side—and the success of Howl! Happening—HA/HA expands Howl's programming capabilities and aims to advance Howl Arts' mission to preserve and showcase the legacy of often overlooked underground and experimental cultures of the East Village and downtown neighborhoods.
"We've been fighting against gentrification in the East Village for decades," says Howl executive director Jane Friedman. "Established in 2015, Howl Arts has worked assiduously to preserve and present East Village artists and their work. For 50 years, the East Village has welcomed and protected artists from all over the world. We feel charged to continue to do so."
Howl's Permanent Collection, to be showcased at HA/HA, comprises over 3,000 objects, including art, rare digital and analog media, performance-art ephemera, and personal archives from the 1960s onward. The collection documents the origins and growth of local cultural and social movements that have had far-reaching impact—offering a myriad of opportunities for new interpretations of the punk, new-wave, and no-wave movements; performance art; drag; street art; public-access television; nightlife; LGBTQ activism; the AIDS epidemic; and urban gentrification.
Howl prioritizes underrepresented cultural producers—offering artists their first major exhibitions, conceptualizing group shows, illuminating social history, and presenting works not shown in commercial galleries or larger institutions. HA/HA offers an opportunity for Howl to showcase items from the Permanent Collection, feature exhibitions of works on paper and photography, and curate multidisciplinary and multi-artist shows that activate the entire space. Building from Howl's dynamic calendar of free public events, HA/HA also offers an opportunity for more intimate gatherings including panel discussions; film screenings; culinary experiences; and cross-disciplinary explorations of the Lower East Side's past, present, and future.
"Howl! Arts/Howl! Archive's flexible and nimble design is meant to reflect and support Howl's mission of promoting the diverse and multilayered experimental culture of the East Village and Lower East Side," says Space ODT co-founder Daphne Binder. "The layout has the capacity to change, adapt, and host a wide range of artistic endeavors: research, exhibition, performance, and beyond. The space was designed to keep a constant relationship with the Bowery, be inspired by it, and participate in its daily life." 
HA/HA's inaugural exhibition Icons, Iconoclasts, and Outsiders, co-curated by Howl executive director, Jane Friedman with Sean Mellyn and Maynard Monrow, will present highlights from the Howl Arts Permanent Collection. Howl has an active acquisition program to expand the collection in accordance with its mission. The collection includes icons like Richard Hambleton, John Kelly, Scooter LaForge, Patti Smith, Tabboo!, and David Wojnarowicz; as well as works of art and archival materials from the estates of artist and Ramones artistic director Arturo Vega, the Tom Murrin Archive, public-access television pioneer Efrom Allen, Warhol superstar Candy Darling, impresario Brian "Hattie Hathaway" Butterick, VJ Merrill Aldighieri, The Clark Render Archive, The Philly Abe Collection, and The Richard Boch Mudd Club Archive. The exhibition continues through October 31, 2021.
About Space ODT
Space ODT is an East Village-based architecture and urban-design studio. The studio was founded by partners Daphne Binder and Theodore Kofman, who studied at Cooper Union and went on to respectively study architecture at Yale and urban design at Harvard. They founded Space ODT after designing Howl! Happening and have since worked with Howl Arts and various clients on residential, commercial, and institutional spaces. Their individual design and research work has received multiple awards and has been exhibited nationally and internationally.