Master Class Arts Series: Antony Zito
Master Class Arts Series: Antony Zito
The Master Class Arts Series is a brand new program from Howl Education that showcases premier artists from the Howl community to host a multipart workshop series focused on the creation of a single work of art. The series is presented virtually via Zoom, and you are invited to get your art supplies together and follow along.
Collage Portraits: Antony Zito is a three-part online workshop series inviting participants to make a collage portrait. Meeting consecutively for three weeks on Wednesday evenings from 7–8:15 p.m., each session conducted by Zito builds on skills explored in the previous one, culminating in the completion of a final collage. Registration is required.
Check out the workshop series outline below from Antony Zito: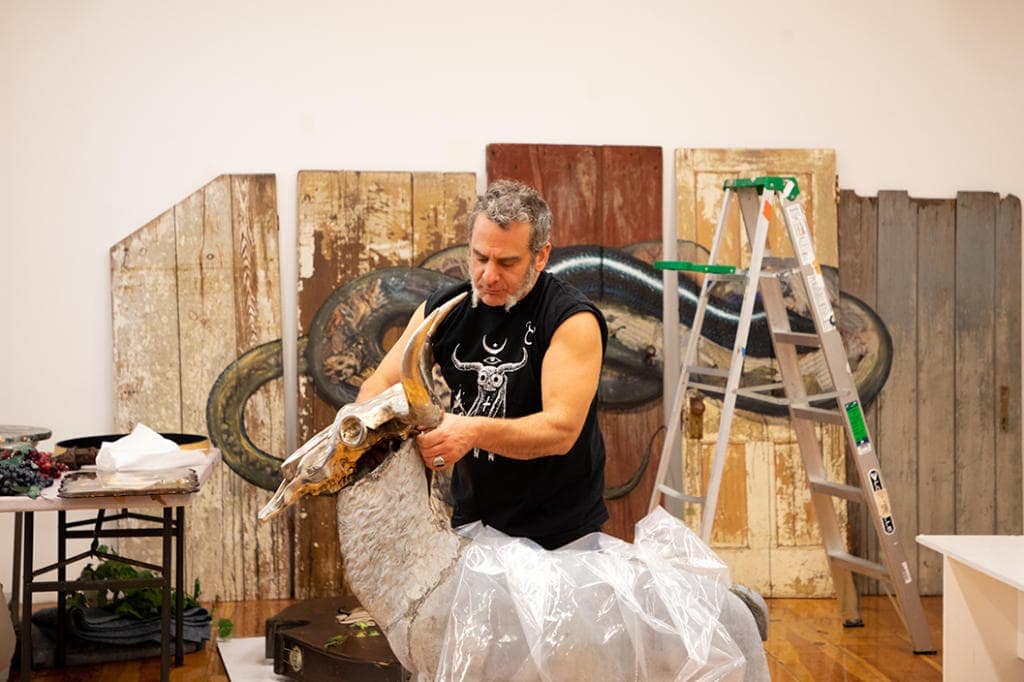 Zito:
We will work primarily at creating a painted portrait rendered from a photo and then add collage around the face, both in the background or in the body, hair, or other parts of the figure.
The concept that unfolds while bringing collage elements into a painted portrait is one of creating layered narratives and hidden vignettes. This type of portrait opens doors to more implications about the story of the portrayed, beyond facial expression and use of paint.
Collage elements can be selected for any number of reasons, including texture, emotional or political content, or even to confound the viewer with surreal clues. But in the end, the goal is a cohesive image of a figure in an environment, however loosely that is interpreted.
Session 1—Wednesday, February 17th
7—8:15 PM
In the first session, we will create the portrait together by working step-by-step from a source photo, using acrylic paint on a canvas, panel, or found object.
Session 2—Wednesday, February 24th
7—8:15 PM
In the second session, the collage elements will be cut from magazines and adhered onto the surface with either glue stick or clear gloss acrylic medium.
Session 3—Wednesday, March 3rd
7—8:15 PM
In the final session, we will work on details and compositional definition required to indicate a level of differentiation between figure and background and foreground objects and textures. This phase can include adding in painted elements to create a more cohesive and balanced final image.
Required materials (to be used at home):
Midsize canvas, wood panel, or found object (roughly 18″ x 24″)
Scissors or x-acto knife
A stack of colorful magazines with strong images (National Geographic is best)
A set of acrylic paints; the color choice is yours; we will work in simple tones
Brushes, rag, water cup
Source photo of the person who will be your subject
Clear acrylic medium (your choice: gloss, matte, etc.)
A brush for pasting the clear medium onto the collage cutouts
A separate water cup and rag for the clear medium
Participants are invited to share their final works on social media and tag @howlhappening or #howlhappening.
Antony Zito is a portrait painter and collector of objects, who moved to the Lower East Side from New England in 1992. Zito has spent more than 20 years on New York's Lower East Side, where he ran a gallery and portrait studio on Ludlow Street through 2006. His portraits of the local characters illustrate a sweeping line through the 90s and 2000s in the East Village rock and art scenes. The New York Post has called his paintings "sensual," and his renderings of people on recycled materials prompted The Village Voice to refer to him as "a master of the found object."
His work has been exhibited and collected in the U.S., UK, Italy, France, Spain, Belgium, Mexico, and Japan. Several of Zito's portraits and other artworks appear in the Jim Jarmusch films Coffee and Cigarettes and Broken Flowers. Zito recently completed a two-story mural in the East Village, and is currently working on a documentary film about the Mars Bar, illuminating his corner of the East Village and Lower East Side in the 90s and early aughts.
Follow Antony Zito on Instagram
@zitozone @zitonyct
Image: 'Queen Elizabeth of Ferguson', Antony Zito, Acrylic and Collage on found object. 2021